Sale!
Mediheal Masks Collection
Description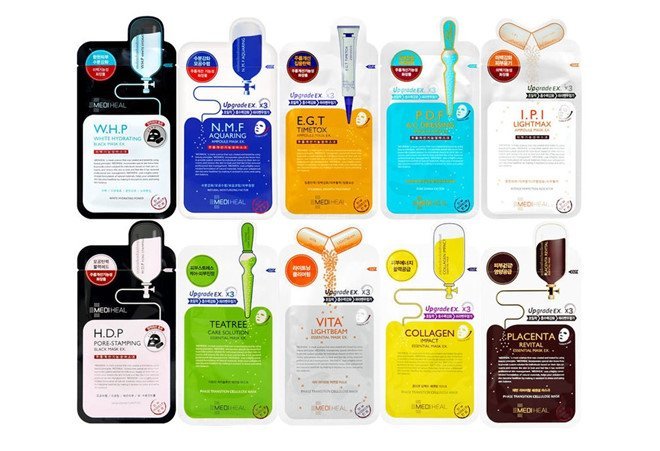 MEDIHEAL N.M.F. AQUARING AMPOULE MASK
– Mediheal N.M.F Aquaring Ampoule Mask EX contains sodium hyaluronate and witch hazel water to quench skin's thirst, while allantoin and trehalose tighten pores to help improve skin elasticity.
The thirst of dry skin is resolved through active water systems such as Hyaluronic acid, Ceramide, and more excelling in the Natural Moisturizing Factor that exists in the horny layer of the skin as well as the moisturizing effec while LS 8865, Witch Hazel, and more which have the effect of managing loosened pores by adjusting sebum and tightening pores.
Mediheal Radiant:Niacin Activator Proatin Mask
– RNA = Radiant Niacin Acivator Proatin Mask (Radiant: Niacin Activator System with RNA)
– Prevents melanin and gives bright skin complexion.
– Main Functions: Whitening, Shine, Whitening, Anti-wrinkle.
– White protein mask invigorates the skin.
How to use:
After cleansing, even out skin using a toner.
Take the mask out of its package, unfold, and place the sheet on the face.
Rest comfortably for 15-20 minutes and remove the mask.
Remove the mask, and let the skin absorb the remaining essence by gently patting the skin.
Additional information
| | |
| --- | --- |
| Variation: | N.M.F Aquaring, R:NA Brightening, I.P.I Lightmax, Vita Lightbeam, Collagen Impact, Tea Tree |